Rising Instances of Substance Abuse Go Hand in Hand with Mental Disorders
"We are seeing more and more patients who are struggling with a multitude of addictions and mental disorders," said Dr. Karl Benzio, founder, executive director and a psychiatrist at Lighthouse Network. "These problems and addictions create and then perpetuate a vicious downward cycle. When someone is depressed, anxious or stressed, they may turn to alcohol or drugs, which might numb the pain temporarily, but only exasperate the problems they are experiencing. Adding drugs and alcohol to any issue will never solve it but will only make it much, much worse."
Is There Help for Parenting An Addict?

The feelings you have as the parent of an addict can be panic, exhaustion, and a deep sense of loneliness. And the questions seem endless: How did my child get here? What do I do now? Who can I trust to give me help? If you are living with the pain of an addicted child? View our free resources online that will help!

---
Resources: The Grace to Change, But How?
DVD (60 mins) with Karl Benzio MD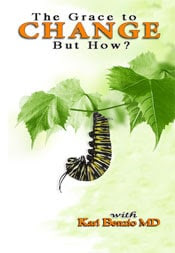 When we are facing challenges in life that are overwhelming, we know we need to make a change, but how do we do it. How do we take the patterns, failures, and disappointments of life and boldly step-out and make a significant life change. The real challenge is not just recognizing that change is needed but how to implement this change daily in every little battle that we face that makes up our real challenge. Successfully overcoming life-challenges is possible, and this DVD shows the small steps that when acted upon over and over again lead to amazing transformation in your daily life.
Click here for more information or to order.
About Lighthouse Network:

Lighthouse Network is a Christian-based, non-profit organization that offers an addiction and mental health counseling helpline providing treatment options and resources to equip people and organizations with the skills necessary to shine God's glory to the world, stand strong on a solid foundation in the storms of their own lives, and provide guidance and safety to others experiencing stormy times, thus impacting their lives, their families and the world.

Lighthouse Network offers help through two main service choices:
Lighthouse Life Change Helpline (1-844-LIFE-CHANGE, 1-844-543-3242), a 24-hour free, national crisis call center, where specialists (Care Guides) help callers understand and access customized treatment options.
Life Growth and self-help training resources for daily life, including online and DVD series and training events to help individuals achieve their potential