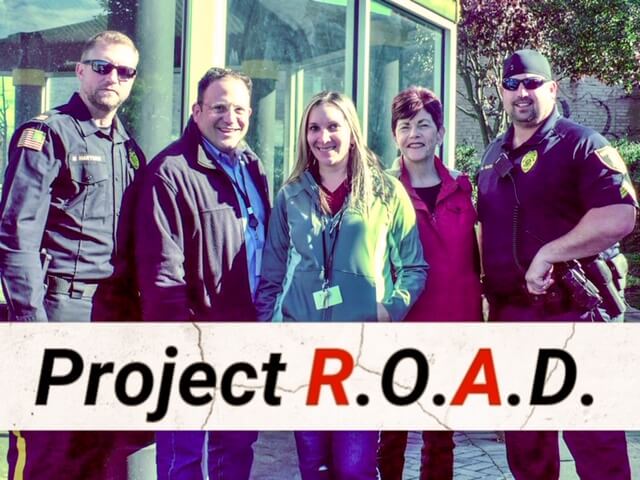 Egg Harbor Township, NJ, November 12, 2018
– Behavioral Crossroads, LLC is announcing their community program called Project R.O.A.D. in affiliation with the Pleasantville Police Department. The agencies are working together several days a week providing outreach and resources to those struggling with addiction and mental health issues in the local community. The Outreach team can be found near the bus station and other key locations near the transportation center on West Jersey Avenue in Pleasantville.
Chief Sean Riggin of the Pleasantville Police Department said, "The Pleasantville Police Department looks forward to
our
partnership with Behavioral Crossroads Recovery in the fight against addiction through Project R.O.A.D. We work hard every day
to get help for those who want it. This will be another tool at our disposal."
The Head of Community Policing at the Pleasantville Police Department, Captain Matt Hartman stated,
"Violent crimes in
Pleasantville are on the decline since 2017, but people struggling with substance abuse issues and overdoses in Pleasantville are
on the rise. In fact, near the transportation center on West Jersey Avenue the overdose victims are not always from Pleasantville
making the numbers true, but somewhat misleading."
Captain Hartman explained that the overdoses in Pleasantville have spiked since 2015. In that year there were 10 or so; in 2016, 30 or so; and in 2017 over 50. Captain Hartman also said that Pleasantville has become known as a place people can come to get their drugs. He explained the initiative with Behavioral Crossroads has been a good one. He reported that although there are several community policing officers at the transportation center, the Behavioral Crossroads clinical staff has been offering outreach and resources to the people who need the help. He said the Pleasantville officers keep a watchful eye, but the counselors and their
approach is very effective.
Lori McCline, LCADC and Substance Abuse Clinical Director, at Behavioral Crossroads Recovery said, "Our team is
very excited
about this initiative. We knew we needed to get out to the people of Pleasantville. We are triaging the whole person, not just
offering substance abuse services. We are linking people to housing, Social Security, Medicaid and outpatient detox services, if
needed. The STORI Fund, State Targeted Opioid Response Initiative, is a perfect support tool provided by the State of New Jersey,
Department of Mental Health and Addiction Services."
Lori said that in the short time we have been offering this program, we have triaged over 75 individuals requesting assistance.We have placed them in treatment or referred them to other local community resources. We are looking forward to expanding this project to other locations, businesses in Pleasantville and the area to improve local commerce and teamwork in the community.
"I grew up on the Streets of Harlem. I was lucky. People need help and having outreach available in the moment of need works, repetition works, being in their faces works. It is important to meet people where they are," said Eli Wilson a former staff member
of Behavioral Crossroads, Community Leader and Addictions Advocate in Pleasantville, NJ.
Eli Wilson was a counselor on the original team that started Project R.O.A.D. in March of 2018. Eli stated that Project R.O.A.D. was designed to be a 3-step program: (1) To assist the people of Pleasantville, who don't have the ability and resources to access the systems of care available. (2) To place people into treatment and (3) To help homeless people into stable housing. We are very excited about the success, progress and affiliation we have with Pleasantville's Police Department and Project R.O.A.D.
Behavioral Crossroads' mission is to assist individuals who have mild, moderate, or severe mental illness and substance use disorders with developing the skills and supports necessary to live, learn, or work in the community of their choice with the least amount of intervention from the mental health or justice involved systems. Behavioral Crossroads continuum of services include: AWM Ambulatory Withdrawal Management (aka. Outpatient Detox) from Alcohol & Opiates; PHP Partial Hospitalization; IOP Intensive Outpatient; and GOP General Outpatient levels of care. We accept commercial insurance, Medicaid and many other forms of funding from the county, state and federal government.
If you would like additional information about Behavioral Crossroads or its services, please contact Michael DiMarco at 609.645.2500 x 138 or email him at md@behavioralcrossroads.com.