Women for Sobriety, Inc.
What Can We Do In 2015?
UPDATE April 11, 2015

: From March 21st, when we announced this fundraiser, up to today... YOU have raised a grand total of $2,360!! Not only have YOU matched Teddy's Challenge, YOU have EXCEEDED it! So... HOW MUCH HIGHER CAN YOU GO??!! There are EIGHT MORE WEEKS TO GO to raise more $$ for WFS... the CHALLENGE CONTINUES...
THE CHALLENGE IS ON! WFS online member, TeddyBear, has generously donated $1,000 to WFS and challenges each and every one of you to match her donation by contributing any amount ($5, $15, $40, $75,....) until it meets or EXCEEDS her donation by the time of our WFS Conference in June. Click to donate here:http://www.wfscatalog.org/Donations_c16.htm

Thank you, Teddy, for your kindness and generosity; and for inspiring all of us to help support Women for Sobriety's much-needed services! Every dollar counts! WE CAN DO THIS TOGETHER!!

Capable & Competent; Caring & Compassionate!,
Becky Fenner, WFS Director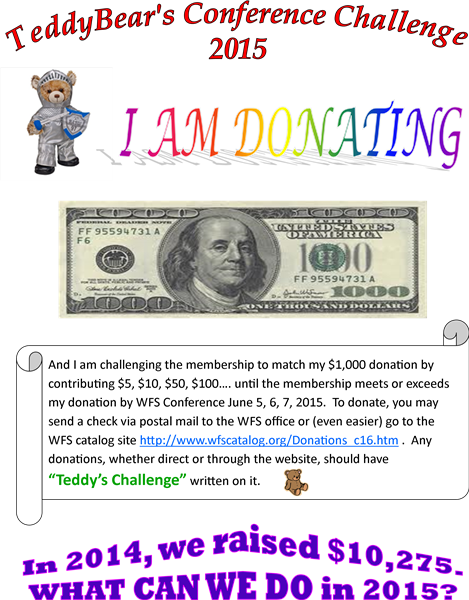 Email

: newlife@nni.com *

Tel

: 215-536-8026 *

Fax

: 215-538-9026
http://www.womenforsobriety.org *
http://www.wfscatalog.org