Women for Sobriety, Inc.
Ring in the New Year with New Life Literature!
Hello WFS Friends,
We are excited to tell you about these new catalog items!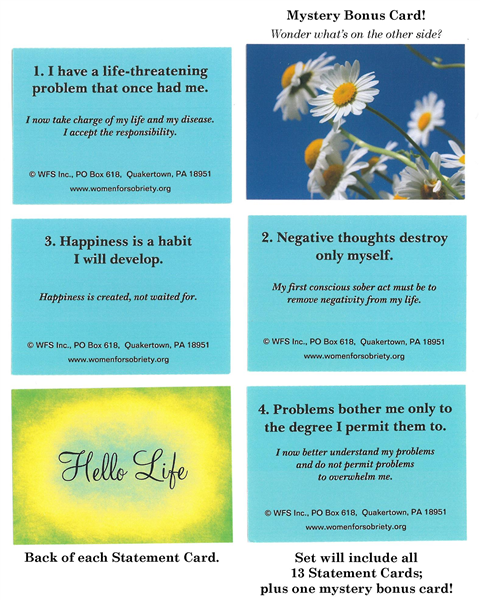 WFS "NEW LIFE" STATEMENT CARD SET - NEW DESIGN!
Deal Yourself A "New Life"! This set of 13 playing-sized cards contains one WFS Statement each. Can be used daily to randomly pick a statement to work on, or in a group setting to select a statement for discussion. NEW: One Mystery Bonus Card Included in Each Set!

Price: $5
http://www.wfscatalog.org/WFS-New-Life-Statement-Card-Set-SC101.htm





BOOK

: THE GIFTS OF IMPERFECTION by
Brene Brown

Sale Price $11.20

Let Go of Who You Think You're Supposed to Be and Embrace Who You Are. Your Guide to a Wholehearted Life!

http://www.wfscatalog.org/The-Gifts-of-Imperfection-by-Brene-Brown-PhD-LMSW-BK166.htm
BOOKLETS: A YEAR OF REFLECTIONS, VOLUME #1-16 BUNDLE




Full Set on Sale for $64

http://www.wfscatalog.org/A-Year-of-Reflections-Vol-1-16-Bundle-BDL112.htm
Individual Volumes are $4.25 http://www.wfscatalog.org/Booklets_c3.htm

SPECIAL BUNDLE of VOL #7-16 is for those who bought the FIRST 6 Volumes for the last 10+ years! LIMITED TIME ONLY $36
http://www.wfscatalog.org/A-Year-of-Reflections-Vol-7-16-Bundle-BDL111.htm


BOOKLET:

LOOKING FOR MOTHER

by Jean Kirkpatrick, Ph.D.
We brought this classic booklet back onto the catalog site for the new year! Price: $2.50 http://www.wfscatalog.org/Looking-for-Mother-by-Jean-Kirkpatrick-PhD-BT190.htm

"Relationships of any kind are difficult and the closer the relationship, the more difficult. There is no relationship closer than mother and daughter and is quite rife with potholes no matter how good it is. Mother/daughter is a lifelong relationship that nothing can change biologically. Only the two persons involved can make a difference. It is my hope that these few thoughts of mine - regrets too - will help you to have a more meaningful relationship with your mother..." -Jean Kirkpatrick, Ph.D.



NEWLY DESIGNED & UPDATED BOOKMARKERS! (8"x2")
Front has WFS 13 Statements (and how to apply them!) and the back has WFS Motto and contact information.

One for $0.25
5 or more for $0.20 each
100 or more: $0.15 each

http://www.wfscatalog.org/WFS-Bookmarker-BM101.htm

A NEW LIFE JOURNEY Vol 3 by Karen Hamm

We brought this edition out in October and it is a great journal to start off the New Year! We are excited to present the next volume of new daily, inspirational passages to our members and friends who wish to read about Karen's thought-provoking personal experiences as she works each of the 13 WFS Statements in her recovery journey. There are 180 spiral bound pages for only $8.99. Here is the link to order Volume 3 edition at our catalog site:http://www.wfscatalog.org/A-New-Life-Journey-Volume-3-by-Karen-Hamm-BT189.htm

Thank you, Karen, for your generosity in sharing your gift of writing through these daily messages!
Kind regards,
Becky Fenner, WFS Director
Email

: contact@womenforsobriety.org *

Tel

: 215-536-8026 *

Fax

: 215-538-9026
http://www.womenforsobriety.org *
http://www.wfscatalog.org